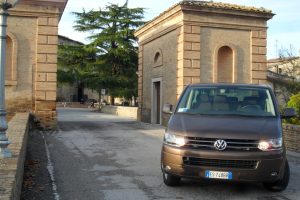 Autonoleggi MAZZA is a company operating in the field of Chauffeur (N.C.C) head quartered in Foligno (Perugia).
We take care of the transport of individuals or groups of up to 8 people. Our mission is to achieve total satisfaction of our customers through service excellence, done with courtesy and professionalism, so comfortable, punctual and safe.
A chauffeur is at your disposal for any need of moving in Italy and abroad, 24 hours on 24 and 365 days a year.
Autonoleggi Mazza, thanks to its long experience in the field, is able to provide its customers with the best services for mobility, working in partnership with other companies in the industry to provide its customers with a wide range of services.